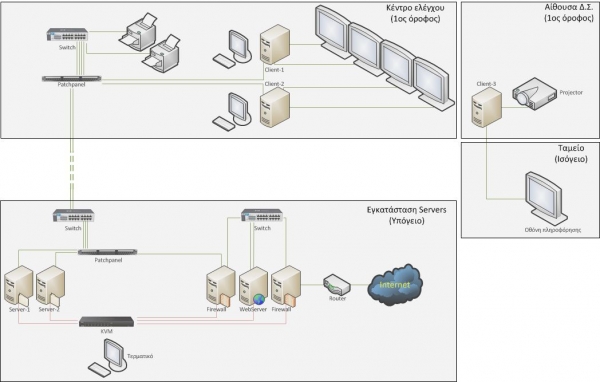 Control center network
Malevizi water network monitoring system
Featured
Municipality of Malevizi, Crete
46 Water tanks and pumping stations will be connected to the system via GPRS network. Each station is completely self sufficient and can operate with or without connection to the central station.
All the operational and measurement data will be continuously monitored and any deviation will trigger alarms that will be propagated to the standby personnel via email and SMS. The target is to minimize the reaction times in case of any abnormality in the operation of the water supply network.
The whole region has big population changes, mainly due to the big number of tourists visiting during the summer. The system optimizes the water supply, given its resources, in order to keep the supply stable while minimizing the total power consumption.
Another primary target of the system is to help identify possible leakage points in the supply network. Minimization of these leakages is crucial, given the low availability of water in the region.
An internet portal is also in development, so any citizen can report any problem in the supply network. The same system will be used for any type of complaint (only for water consumers). The complaint can be monitored and all the actions that took place in order to remedy the situation will also be logged. This will lead to a more transparent operation of the service.
On Friday 13 of May 2016 the system was presented to the local and regional authorities and to many engineers from similar public services.
Local press and blogs covered the event (articles in Greek).  Municipal site Cretan blog inotos Cretan news radio and blog Water & Waste
Additional Info
Development Platform:

Siemens WinCC

Year:

2014

Sector:

Public Sector

Client Operating System:

Windows 7

Server Operating system:

Windows 2008 Server

Computer Languages used:

ANSI C, Delphi, php, Javascript, SQL

Database used:

MySql, SQL Server
back to top