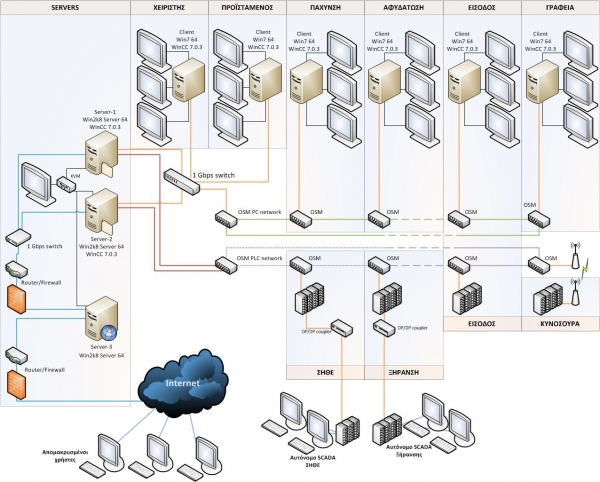 Athens Wastewater Treatment Plant (A.W.T.P.) rebuild
Athens Water Supply and Sewerage Company (EYDAP SA)
Project in progress
Project in commissioning stage
After more than ten years of continuous operation, the automation system of the whole plant is to be upgraded/updated.
Many subsystems were updated, and many new ones were installed in this period. All of them need to be added and interconnected.
The existing infrastructure will be upgraded and the automation layer will be further divided into two layers for better control.
The five biogas fueled power generators will be monitored, as will the gas turbine power generator. The biogas processing (desulphurization) and gas flares will be also included
All the sewage works in the land will be added
The main pumping station in the sewage network (Agia Anna) will be added via VPN on an xDSL internet connection
The preprocessing station at Salamis island will be added to the system via Wireless Ethernet connection
The automation principles used will be updated to the latest standards used succesfully in other projects.
All operational procedures will be revisited. After 10 years, the collected data and the operational experience gained will formulate the plant's modus operandi for the next 10 years and beyond.
Additional Info
Development Platform:

Siemens WinCC

Sector:

Private Sector

Client Operating System:

Windows 7

Server Operating system:

Windows 2008 Server

Computer Languages used:

ANSI C
back to top